The Freelance Writer's Bible
Your Guide to a Profitable Writing Career
Within One Year
by Dave Trottier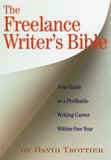 This book is based on two of my national, copyrighted seminars, 17 Ways to Make a Living as a Writer and How to Get the Inner Writer Out and Working For You.

The book writers have waited for I received the following from Don Miles, who not only has published two books of fiction and numerous articles but also teaches writing at the university level: "Dave, your book is the only book I have seen that covers how to be a marketer and sell your work. Most writers don't have that valuable information." Dozens of Industry professionals and budding writers alike praise this book. Read a sampling of these comments.

Make $100,000 a year as a writer

This book shows you how. For FREE specific guidance on how to make a six-figure income, click here.

The Freelance Writer's Bible IS FOUR BOOKS IN ONE
Discover your creative vision. Find yourself as a writer and begin your quest for the possible dream.


Write with freedom and confidence. Break through fears and achieve higher levels of creativity and writing excellence.


Sell to 17 key writing markets. Make money in every profitable writing area of interest to you.


Create your strategic marketing plan. Design your master plan for a writing career and a six-figure income if you want it. You can make over $100,000 a year as a writer. Others have. Why not you?
Let DAVE TROTTIER be your MENTOR

Dave Trottier mentors you at every step of the writing and selling process through practical advice, useful worksheets, and insightful writing activities.

Learn what you must know to succeed in these areas: Novels and nonfiction books • Writing for children • Articles and columns for magazines and newspapers • Business writing and copywriting • Self-publishing and e-publishing • Direct mail, PR, newsletters, technical writing • Ghosting, resumes, speeches, grant proposals • Movies, TV, radio, stage, and interactive • Video/DVD scripts for business • Humor, greeting cards, fillers, and games • Writing for non-profits, causes, education, and government • And more

The Freelance Writer's Bible also includes specific guidance:

• Set up your writing business for almost nothing
• Double your writing income
• Create a writing mission statement
• Get off to a fast and profitable start
• Turn personal and writing blocks into stepping stones
• Learn how to get writing assignments and enjoy a competitive edge
• Discover the great paradox of creativity
• Get paid before you write
• Convert the writing process into a great writing adventure
• Learn the 7 secrets to great query letters
• Become a writing entrepreneur and build your empire
• Stay focused with a master plan and weekly action plans
• And much, much more

What professionals are saying about this book:

"Provides not only the nuts and bolts, but also the power tools. I learned to write from Dave's books."
-- Donna Davidson, author of award-winning novels
Elizabeth's Gift and Lord Kingsford's Quest

"If you follow this book's advice and still can't make a living as a writer, it's a good sign that writing should be your hobby."
--Marty Nemko, Author, Cool Careers for Dummies, Contributing Editor, USNews,com (as a freelancer)

Serious about earning money with your words? Read THE FREELANCE WRITER'S BIBLE, boot up the computer, and GET WRITING. Dave Trottier has the hand-holding/kick in the patootie double-whammy down pat. A great book for beginners and a wonderful refresher for experienced writers. Highly recommended.
--Kristine L. Franklin, Children's Author, Novelist and Freelance Writer

"A precision tool for those trying to establish a toehold in any of seventeen writing arenas.... The author identifies and defines the precise steps needed to negotiate the path to landing a lucrative writing career. He mentors the reader in every aspect of the writing and selling process through practical advice, useful worksheets, and insightful writing activities." --The Writer's Journal

Take if from me, a guy who has been a freelancer for 52 years...I highly recommend The Freelance Writer's Bible. [Dave] presents a clear, easy-to-understand blueprint for success in this informative book.
-- Ray Hoy, The Fiction Works (fictionworks.com)

"Dave's book is an entertaining practical guide to gaining success as a freelance writer. If you want to make money as a writer or increase your income as a freelancer, Dave's book is your complete guide." -- John Kremer, editor, Book Marketing Update, and author, 1001 Ways to Market Your Books

"The Freelance Writer's Bible provides valuable information as well as workbook excerises, which lead writers from the beginning idea, intent, and conception, all the way to the marketing of a finished product. With specific exercises and guidance, this book is a valuable asset for anyone who wants earn a living, or increase their earnings, in the writing trade. -- Melanie Grimes, editor The American Homeopath and board member of the Pacific Northwest Writers Association.

"The Freelance Writer's Bible is in its spirit generous; it offers its readers creative yet structured advice that should pay off.... Whether you want to know how to write a query letter, how to submit poetry, how to become a ghost writer, or how double your income and double your fun, David has included the information you need in a format and tone that allow you to absorb the information and move on to practicing the necessary steps for success. David's guide offers a "let's get right down to it" discussion of creative vision and the writing process as well as a coach's focus on how to use industry information to make decisions and sell work. That Trottier is a writer and teacher who cares about helping others comes through in this well-organized guide for those who'd like to succeed."
-- Sheila Bender, Editor of Writing It Real and author of many writing books Ms. Bender's complete review includes an expert from the book.

"A must-have book for writers who want to turn their hobby into a real business. Dave provides tips, tools and rules of writer etiquette which will make your queries stand out from the hundreds of others that cross an editor's desk each week. Don't miss this investment in your career."
-- Shelly Mellott, Editor-in-Chief, Scr(i)pt Magazine

"If you're saying, 'I want to be a writer, but I don't want to be a starving writer,' there is no reason for you to be one. Not if you read Dave Trottier's book.... If you want to write and have an income, this book tells you how to do it."
-- Connie Martinson, host of the longest running TV show devoted to books. View Connie's TV interview of Dave.

"Dave, what you have said about business writing is right on target."
-- Jim Fisher, copywriter and author of the upcoming book,
Personal Ad Magic

With an eye and a heart toward the ultimate goal of becoming successful, the book propels the reader toward that goal of success with words of wisdom and helpful exercises. Trottier...applies his skills as a teacher and mentor to assist freelancers in becoming full-time writers.
-- National Writer's Association

See more comments below.

What writers like you are saying about this book:

"My first freelance assignment was for CBS TV. I wrote the Hawaii segment of a Thanksgiving Special, which aired nationally. Thanks for sharing your knowledge." -- Mary Henderson

"I was two months into writers block when I used some of the strategies on how to unleash the creative genius inside and overcome fears. Well, my writer's block broke, and I came up with a new approach. Thank you for that section." -- Jim Sisneros

"I am now making money at 7 of the 17 areas you outline, and I am making far more as a writer than I had expected. This is fun!" -- Carrie Davies

"This book has changed my writing life! I not only feel empowered, but I am confident I will succeed. Read this book and you will find your "voice." Also, the large section on key writing markets is jammed with specific information that will help you sell what you write. I saw opportunities I hadn't previously considered. Thanks to this book, I now have a marketing plan and am ready for the new year." -- Tom Wall

"Thanks for your help. My self-published effort The Cheers Trivia Book is a success." -- Mark Wenger

"The 'Bible' is both readable and immediately useful. The marketing information is specific and applicable. I was surprised that Mr. Trottier could get so much helpful information into this book. Not a paragraph is wasted. Besides the marketing information, I found the section on fears and blocks extremely helpful. I have since broken through and can hardly wait to complete my marketing plan for my career, as described at the end of the book. The Freelance Writers Bible is a true inspiration, and Mr. Trottier is a true mentor. -- Stan Johnson

"I stumbled upon your book and it changed my whole perspective. I just got a job scripting an infomercial for a national product. Thanks for being there." -- Everett Jones

"This book is for writers and wannabes who want to sell what they write. I benefited immensely from the practical advice and positive direction." -- Sean Alt

"Provides specific marketing information that you can use right now to move your writing career forward. I loved the detailed breakdown of 17 key writing areas. The book is fun to read and inspirational at the same time." -- Mel Goldstein

"About two thirds of the book...deals with selling what you have written. The good part of this section is that the writer speaks with authority on all different kinds of writing, far more than you could ever imagine. For instance about about writing the little announcement sheet that comes with your electric bill. Some writer somewhere gets paid for writing that. Then there are annual reports, and pages that someone wants to put on the web. There is a lot you will never think of by yourself that might give you a career. Take it from someone who has been there." -- John Matlock "Gunny"

"Superb! I have read a lot of writing books, but this one has helped me the most. It has given me a clear and realistic direction for my writing. I recommend the 'Bible' because it is down-to-earth and jammed with useful information. This is especially true for the third section about the 17 writing markets. (There are four sections or 'books.') The 'Bible' provides many helpful worksheets. In fact, the fourth section is devoted to creating a marketing plan for a writing project or for a writing career. When I read the book, I felt refreshed and motivated, and even though I have sold my writing in the past, I feel certain I will do better in the future. I think this book would be especially helpful to beginners." -- Sara Lewis

"Few people really give back. You do through your book. First I wrote poetry. Next I wrote and self-published two books.... You uplifted and caused me to see myself as a writer." -- Sandy Hoops-Ketchum