TWO SCREENPLAYS

by Dave Trottier
Early reviews
The following are comments from readers just after the book was released:
"A gem." --Daniel Williams
"Should be a textbook in every screenwriting class." --John Crystal
"The screenplays are brilliant and perfectly crafted." --Bri Ianiello
"I love seeing a true spec script." --Dash Ghahary
"Read this and many pitfalls will be avoided." --Gary Striker
"Invaluable!" --Rueben Gomez
"Should be a lab manual for your 'Bible.'" --Ellen Howard
"Since you can't get hold of spec scripts anywhere, I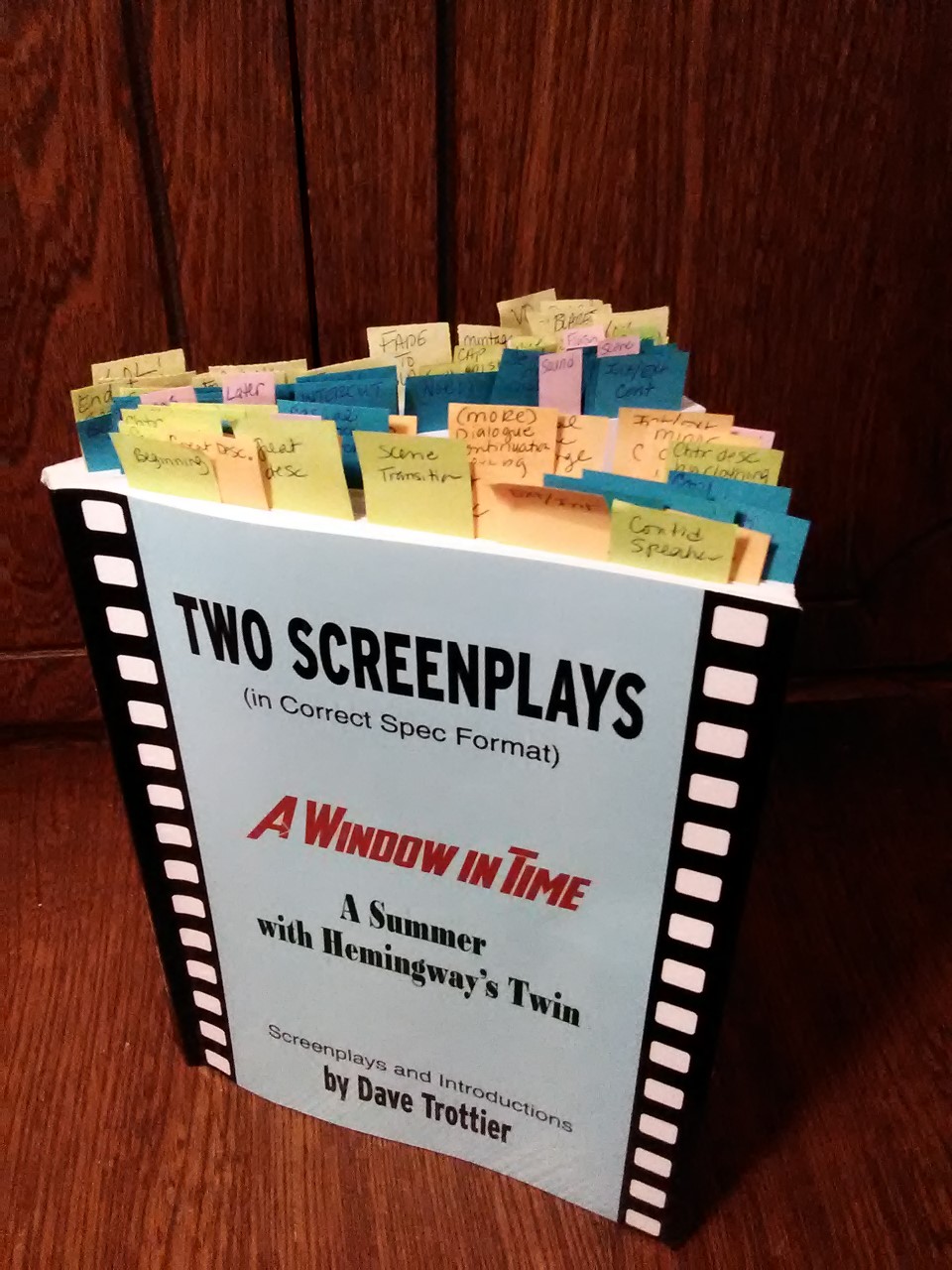 think it's a steal."--Steve Salt
"A great book with excellent screenplays. The flow and pacing are dead on." --Mike VinSavage

"I hope this photo shows how thoroughly I enjoyed your book. Two Screenplays provides the perfect learning tool for people like me who best comprehend by physically interacting with the text (hence the billion-and-one sticky tabs) and using the finished product as a study guide. Being able to view the actual screenplay and reference different aspects is extremely helpful." --Anna Kittrell

In response to my clients and students
Countless clients and screenwriting students have asked me (Dave Trottier AKA Dr. Format), for a rarity that most all developing screenwriters wish they had--a genuine spec screenplay with the following characteristics:
It must be a spec script that a Hollywood readerfell in love with and recommended for purchase and production. At that point, the spec screenplay is converted into a shooting (or production) script.


The same successful script must also be written in industry standard, spec screenplay format. Developing screenwriters want to see how correct format enhances the presentation of the story.
This book contains two successful spec scripts in correct format. Both made it to the pre-production stage with established talent attached.
Two scripts to learn from
Actual spec scripts like these two are difficult to find because virtually all screenplays available to read or buy are shooting scripts, which often contain camera directions and other technical intrusions, such as scene numbers. Unless you are being paid to write, you are writing a spec script.
Now you can apply principles gleaned from reading these two screenplays to craft your own entertaining movie script.
A Window in Time
Wrongly charged with treason, a brilliant young NASA engineer gets another shock: a woman from the future claims to be his wife of ten years. Together they unravel a terrorist conspiracy, and ultimately travel to the future intending to foil the calamitous plot and undo his untimely death.
A Summer with Hemingway's Twin
Ernest Hemingway had a twin? He did! And no one has told her story...until now. This lyrical ode to creativity reveals the Hemingway women as they were in 1939--Ernest's mother, his "twin" sister Marcelline, and the spunky coed who idolizes him and wants to write like him.
Both of the above screenplays come with introductory material about their history, content, and marketing.
Share: